Start main content
UNIVERSITY AWARD
Outstanding Researcher Award 2007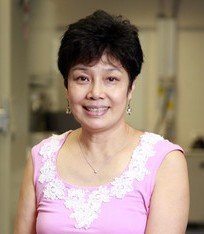 Professor Mee-lan CHYE
School of Biological Sciences
Professor Chye completed her PhD on a Commonwealth Scholarship at the University of Melbourne in 1986. She received her postdoctoral training in plant molecular biology at New York¡¦s Rockefeller University and Singapore's Institute of Molecular and Cell Biology. She joined theUniversity of Hong Kong's Department of Botany as a Lecturer in 1993 and was promoted to Professor in 2005. She was awarded an Edward Clarence Dyason Universitas 21 Fellowship 2004/2005 and a Croucher Senior Research Fellowship 2007/2008. She currently serves on the editorial board of the international journal Planta.
Professor Chye's research interests are plant molecular biology and plant biotechnology. Her research team has characterised a new gene family encoding acyl-CoA binding proteins in the model plant Arabidopsis. These proteins were shown to bind different acyl-CoA esters and exhibit various subcellular localisations, implicating their non-redundant roles in plant lipid metabolism. These studies, funded by the Research Grants Council of Hong Kong, have improved our understanding of plant lipid transfer and lipid-mediated stress tolerance. Her research in plant biotechnology has resulted in the issue of two US patents and the fi ling of three others.
Professor Chye values the opportunity to collaborate with other investigators both in Hong Kong and abroad. She believes that this kind of teamwork involving her enthusiastic research students has made life in the laboratory fun and rewarding. She much appreciates their support, together with the support of her colleagues and family, and would like to dedicate the award to them.