Start main content
UNIVERSITY AWARD
Outstanding Research Student Supervisor Award 2008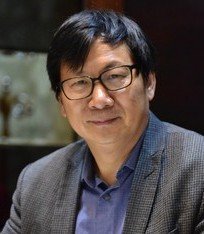 Dr Meifu ZHOU
Department of Earth Sciences
Dr ZHOU is a geochemist and Assistant Professor in the Department of Earth Sciences in the Faculty of Science. He has already been granted the Outstanding Young Researcher Award by this university in 2004. Aside from his own work, I would like to share how Dr Zhou directs his students in the pursuit of research excellence.
Dr Zhou has supervised seven PhD students over the past eight years and is currently supervising another seven graduate students. He knows the strengths and weaknesses of his students very well and has reasonable expectations from them. He encourages students to try publishing one or more representative articles in the best possible journals and he tries his best to help. When he is about to leave from work, his briefcase is always full of manuscript drafts written by students. I believe that he must have sacrificed much of his personal time in reading these papers. If a supervisor does that, but a student still does not work hard, I think it is a great shame. This could be why all his students have good publication records by the time they graduate. Over the past seven years, his students have published more than 25 peer-reviewed articles in total as a first author in international journals of geology and geochemistry. Among them, two students were granted Outstanding Research Postgraduate Student Awards by HKU.
Dr Zhou has extensive contacts with research institutes and universities in China and other western countries, enabling some of his students to gain research experience in laboratories in addition to those at HKU. For instance, I had several opportunities to work in laboratories in the United States and China as part of my PhD studies, which were very useful in establishing links to researchers that I am currently collaborating with. Dr Zhou also invested a great deal of effort in bringing his students into contact with potential employers. Many of his former students are now academic staff in leading institutes in China and have access to substantial equipment and research funding.
Apart from offering great supervision, Dr Zhou also tries to maintain good friendships with everyone in the research team. After a long working day, he would invite students to have a beer in the Senior Common Room. He would also organise from time to time a variety of activities, including barbeque parties and hikes. He would chat with students on MSN, whether work-related or not. I felt like he was no different than any other friends of mine, even when I was his student. Because of that, the working atmosphere in our team has been wonderful and relaxing. I believe that his personality and the way of managing a research team does indeed nurture outstanding students.
The Outstanding Research Student Supervisor Award justly recognises Dr Zhou's contribution in supervising graduate students. I am delighted to be able to share this important and wonderful moment with him. My sincere congratulations to Dr Zhou for receiving the award!
Citation written and delivered by Dr PANG Kwan Nang, PhD 2008