Start main content
2021 EXTERNAL AWARD
HKU Chemist Professor CHE Chi Ming being awarded of the Silver Bauhinia Star
Congratulations to Professor CHE Chi Ming, Zhou Guangzhao Professor in Natural Sciences and Head of Department of Chemistry, for his being awarded of the Silver Bauhinia Star(SBS) in 2021 Honours list, in recognition of his remarkable achievements and contribution to a wide spectrum of research areas in the chemistry discipline. An award presentation ceremony will be held at Government House in November.
Professor Che is a world leader in organic light-emitting diode materials. Given his meritorious achievements in anti-cancer medicines research, Professor Che is well respected and recognised by the global research community. In addition, he is a pioneer in deepening cooperation between Hong Kong and the Mainland in scientific research.
"I am happy to see Basic and Interdisciplinary Chemistry Research undertaken at HKU is recognised by Hong Kong Government as making notable contributions to the community at large," said Professor Che, who is deeply honoured to receive the recognition.
Dean of Science Professor Matthew EVANS is exceptionally pleased with the accomplishment of Professor Che, a "home-grown" scientist with world-class standing. Professor Evans said, "While Professor Che has won many previous honours, it is a particular joy to be honoured by the place of his birth, upbringing and career. I congratulate Chi Ming on this recognition and wish him all the very best for his future endeavours."
The 2021 Honours List is published in the Government Gazette on 1st July, 2021, please click here to see the details.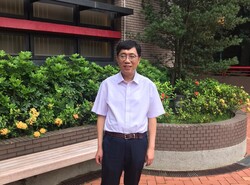 Professor CHE Chi Ming
Department of Chemistry