Start main content
2022 EXTERNAL AWARD
Four young scientists awarded the National Excellent Young Scientists Fund 2022
Four of our young talented researchers at the Faculty have achieved outstanding results in the National Excellent Young Scientists Fund (Hong Kong and Macau) for 2022, a prestigious fund under the National Natural Science Foundation of China of the Ministry of Science and Technology (MOST).
This has been the fourth consecutive year for HKU to be awarded the highest number of projects among its peer institutions, after the fund was extended to Hong Kong and Macau for applications by eight designated universities since 2019.
The four young scientists and their award-winning projects:
Dr Chun Yin HUI
Associate Professor, Department of Mathematics, Faculty of Science
Project Title: Algebraic number theory and arithmetic geometry
Dr Hui studies arithmetic geometry and algebraic number theory from the perspective of Galois compatible systems. He plans to study Galois compatible systems arising from smooth protective varieties X over a characteristic p function field K, and regular algebraic cuspidal automorphic representations of GL_n(A_K) for number field K. For the former, Dr Hui proposes to investigate the Galois semisimplicity of Z_l-cohomology of X which has application to ultraproduct cohomology. For the latter, Dr Hui proposes to investigate the irreducibility conjecture for automorphic Galois representations when K is a totally real field or CM field.
Dr Chenjie WANG
Assistant Professor, Department of Physics, Faculty of Science
Project Title: Theory of correlated topological states
Dr Wang's research focuses on fundamental theories and transport properties of correlated topological states of matter. He will continue the study on theories of correlated topological phases and will seek applications to quantum critical phenomena.
Dr Yi YANG
Assistant Professor, Department of Physics, Faculty of Science
Project Title: Light-matter Interaction
Dr Yang's research will study the interaction between light and material electrons. In particular, Dr Yang's proposal will explore nonclassical electromagnetic responses at the extreme nanoscale by various experimental means with temporal and spatial resolutions. Dr Yang will also study the interaction between light and free electrons. Specifically, the proposal will investigate various optical environments to substantially enhance their coupling strength with free electrons. It will also study the interplay between free electrons and photonic topology.
Dr Celia Marei SCHUNTER
Assistant Professor, School of Biological Sciences, Faculty of Science
Project Title: Mechanistic responses in marine fish to environmental fluctuations
Dr Schunter's research focusses on the genetic and molecular response driving the species and population adjustments to environmental stressors, such as those predicted to occur by the end of the century, in marine animals. Her work has led to key insights into the interactions of the physical environment on marine populations and their adaptive capacity across different marine ecosystems. Building on her research on molecular mechanisms underlying the response in fish to future environmental conditions, Dr Schunter proposes a wholistic study to integrate environmental fluctuations into the equation.

Click here to see the list of recipients from previous years.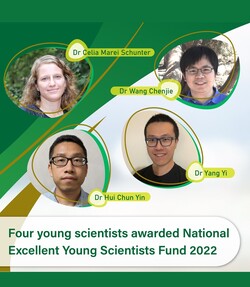 Dr Celia Marei Schunter, Dr Hui Chun Yin, Dr Yang Yi and Dr Wang Chenjie.
Faculty of Science