Start main content
FACULTY AWARD
Faculty Knowledge Exchange (KE) Award 2014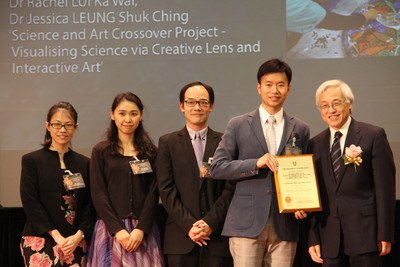 (from left to right) Dr Jessica Leung, Dr Rachel Lui, Dr William Cheung and Benny Ng of the Faculty of Science receiving the prize from Professor Paul Tam
'Science and Art Crossover Project -Visualizing Science via Creative Lens & Interactive Art'
Congratulations to Dr Benny Ng and his team members Dr William Cheung, Dr Chi-wang Chan, Dr Rachel Lui and Dr Jessica Leung for their being awarded of the Faculty Knowledge Exchange Award 2014 for their project 'Science and Art Crossover Project -Visualizing Science via Creative Lens & Interactive Art'.
The award is to recognize the team's remarkable achievements in knowledge exchange in 2013-14. The one-day science-rich programme for 105 secondary school students and the subsequent exhibitions at various places achieved demonstrable impacts to the local community, in terms of science education and knowledge exchange.
The programmes established a new model of public science engagement activities by bridging the gap between science and other disciplines. The fun-filled and science-rich activities successfully stimulated participants' interest towards fundamental science principles and daily life science. The project has received enthusiastic response from the public, as evidenced by the positive feedback from the participants and the wide media coverage.