Start main content
2023 EXTERNAL AWARD
Dr Jinyao TANG receives BOCHK Science and Technology Innovation Prize 2023 in New Materials and New Energy
Dr Jinyao TANG of the Department of Chemistry has been announced as a recipient of the prestigious BOCHK Science and Technology Innovation Prize (STIP) for the year 2023. Dr Tang has been awarded the "STIP in New Materials and New Energy" category, which includes a grant of HK$2 million sponsored by the Bank of China (Hong Kong) Limited.
Dr Tang's exceptional research in the field of active colloidal materials has garnered recognition for its innovative and transformative contributions. His groundbreaking work involves the development of a novel type of light-responsive active colloidal material capable of achieving controllable photoinduced "phase separation." This achievement has significant implications for various applications, including advancements in display technology and the development of optical stealth materials. Additionally, Dr Tang's research has contributed to the fundamental theory behind light-controlled active materials and chemically driven micro/nano motors. In 2022, Dr Tang achieved another notable milestone by developing a cluster system of nanorobots, further demonstrating his dedication to pushing the boundaries of scientific exploration. He was also selected as Senior Research Fellow by the Croucher Foundation for his excellent scientific research achievements in 2022
Dr Tang's recognition as a laureate of STIP serves as an inspiration for scientific researchers and innovators in Hong Kong. His achievements highlight the importance of persistent innovative exploration and the potential to establish Hong Kong as a hub for groundbreaking research, serving both the nation and the global community.
Click here to learn more about Dr Tang.
About The BOCHK Science and Technology Innovation Prize (STIP)
Established in 2022 by the Hong Kong Alliance of Technology and Innovation and sponsored by the Bank of China (Hong Kong) Limited, it is a non-profit organisation aimed at fostering strong connections among scientific research platforms, institutions, organisations, groups, and innovative technology enterprises in Hong Kong. The organisation strives to facilitate interdisciplinary exchanges, promote innovative collaboration, and enhance the atmosphere of technological innovation in Hong Kong. The award ceremony will be held on 15th December, 2023.
Click here to learn more about STIP.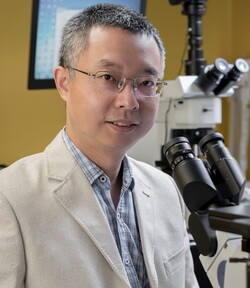 Dr Jinyao TANG
Department of Chemistry