Start main content
FACULTY AWARD
Award for Teaching Innovations in E-learning 2016-17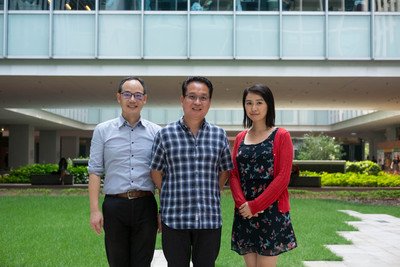 SCNC1111 teaching team
Dr Eddy K F Lam (middle)
Dr Rachel K W Lui (right)
Dr William M Y Cheung
"Education is that which remains, if one has forgotten everything he learned in school." – Albert Einstein
We aspire to address the most compelling developments of our times in SCNC1111 – Scientific Method and Reasoning. Since we started delivering the course from Fall 2012 under the leadership of its pioneer, Dr Nam Kiu TSING, we have been paying attention in fostering skills that are indispensable to scientific reasoning. Under the current paradigm of big data, we believe that the ability to interpret data and conduct quantitative analyses is of paramount importance. Therefore, in our course, we offered various learning scenarios on identifying problems in novel situations, developing and evaluating solutions, as well as presenting and reporting them logically.
At the same time, we care about putting our students in positions where they can excel. Given the diversity of their background knowledge in mathematics, we deployed multiple pedagogical approaches such as flipping the classroom, online polling and gamification to enhance their learning experiences. We developed the e-learning platform for Calculus, and it was later transformed into a mobile app. Their effectiveness is supported by our recent research findings through learning analytics. We continue to explore appropriate and new technologies in teaching to better prepare our students for the future.
Our gratitude runs wide and deep to Dr Tsing for his continuous guidance.