Start main content
29 Mar 2021
In Loving Memory of Doctor of Science and Emeritus Professor Brian Morton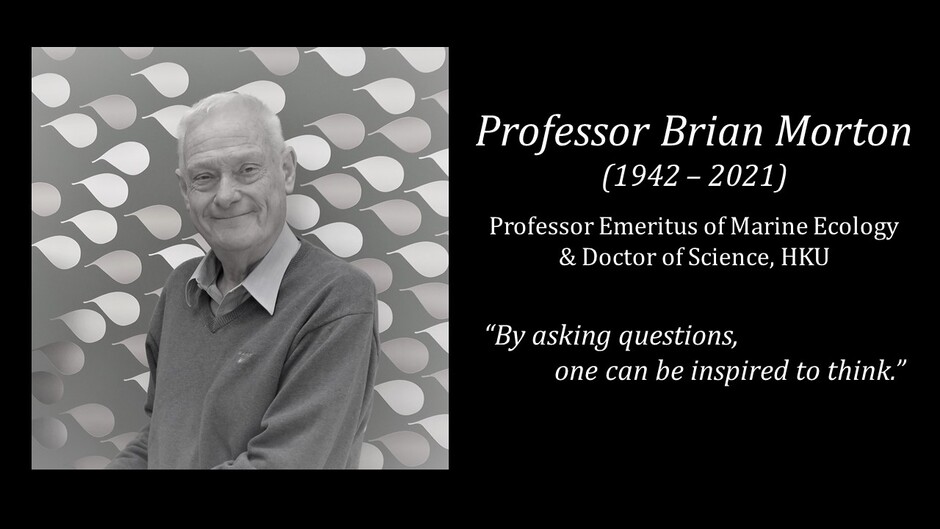 It is with deep sadness that we mourn for the passing away of Emeritus Professor Brian MORTON on March 28, 2021 in his sleep, at the age of 78. We honour the memory of Professor Morton in many aspects, be it his relentless commitment in founding the Swire Laboratory (later renamed as Swire Institute of Marine Science) 3 decades ago, or his significant contributions in teaching and research in marine biology as well as in pioneering the marine environmental conservation in Hong Kong.

Professor Morton obtained his degrees from King's College, the University of London, and almost immediately joined The University of Hong Kong as an Assistant Lecturer. He remained in Hong Kong for almost 34 years and, on retirement, was appointed Professor Emeritus of Marine Ecology.

He published extensively on the marine biology and ecology of Hong Kong, China, the Azores and the Gulf of Mexico. On retirement in 2003, he returned to his childhood home on the south coast of England and wrote his book (2008) entitled "The historical ecology of the River Arun and its beaches at Littlehampton, West Sussex: 1,000 years of change", and later in 2018 he published another book "The Story of a Mute Swan on the River Arun at Littlehampton in West Sussex, England".

For his many achievements, he was made a Life Fellow of the Pacific Science Association (1993) and elected to the Global 500 by UNEP in recognition of his contributions to Pacific marine science and conservation, respectively. In 1997, he was invested as Knight (Ridder) in the Order of the Golden Ark, The Netherlands, in 1999 invested OBE, the UK, for contributions to conservation and marine science, respectively, and was the recipient of the Duke of Edinburgh Conservation Gold Medal in 2004 and Doctor of Science of The University of Hong Kong in 2014.

We honour the memory of Professor Morton for his lifetime dedication to the research in local marine fauna and flora. He will be dearly missed by all whose lives he touched, and we offer our deepest condolences to his family.
Revisit an interview with Professor Morton by clicking here.