Mr Hugo Chin Leong WONG
• BSc student (major in Chemistry)
• Research assistant for Dr Angela Pui Ling TONG, re-designing experiments for Chemistry education in 2019
• Participant of Summer Research Fellowship (SRF) in 2018
• Research helper at Dr Ho Yu AU-YEUNG's lab on synthesis of interlocked rings in 2018
• Research helper at Dr Patrick-Henry TOY's lab on organocatalyst in 2017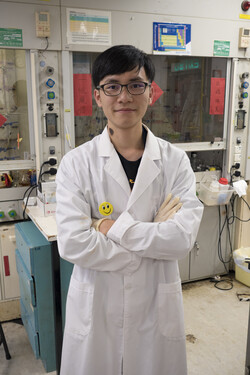 "Sometimes research looks scary from outside, but you will find it appealing to be around when you get to know it."
"It was really a fruitful experience for me to partake in Summer Research Fellowship (SRF) in the summer of 2018. I had long been passionate in Chemistry and involving in its research, and through joining SRF, I was able to have an early taste of research before my postgraduate studies.
In my first year summer, I had been a research assistant in design and synthesis of organocatalysts. I started to realise the attractiveness in doing lab and I would like to dive myself deeper into Chemistry research. Thus SRF seemed to be very appealing for me such that I could launch a whole project by myself.
My SRF topic was about synthesis of interlocked-molecules. Although the synthesis was unsuccessful in the end, after the SRF scheme, I could see my progress in acquiring knowledge about supramolecular chemistry and equipping myself with lab techniques. Unlike attending lectures and reading textbooks, we should proactively find out the solutions by our own. To me this experience was also a golden opportunity to enhance my problem-solving skills. Despite the failure I experienced, I found myself fully dedicated to Chemistry research and felt fruitful in that summer. I would also like to thank my supervisor as well as the postgraduate students who provided much guidance to me. In the future, I will definitely seize every opportunity and keep going for research-related experience."