Start main content
19 Oct 2022
A Seamless Transition From Science to Veterinary Profession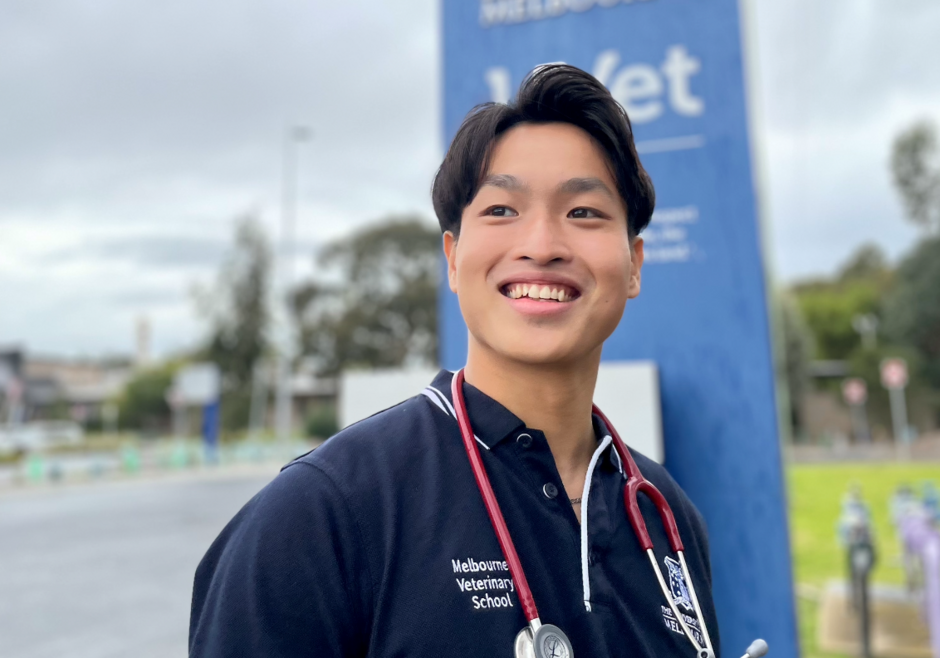 Unlike his friends in the cohort who were determined to become veterinarians since childhood, Jason's enthusiasm gradually developed during his teenage and undergraduate years. His first experience of having animal companions could be traced back to his late high school period when he had this precious opportunity of fostering and training two Labrador puppies until they were ready for official guide dog training. The exposure to vet clinic visits, training sessions and the behind-the-scenes of a working animal sparked his interest in the field of Veterinary Medicine. In 2019, Jason enrolled in HKU School of Biological Sciences to study Molecular Biology and Biotechnology (MBB). 'The Main reason I selected MBB was because I was genuinely interested in biology since High school, and the fact that the degree gives me the freedom to choose between different disciplines of science really appealed to me. I was also aware that there is an articulation pathway with this degree to Veterinary Medicine, which further encouraged me to join this program.' Jason said.
This Major offers specialised training in state-of-the-art molecular and cell biology, and in the translation of basic knowledge into modern industrial and medical applications, and he was given research opportunities to work in the animal lab, where stationed veterinarians were responsible for ensuring that animal welfare and practices were up to standard for good science to be conducted. It made him aware of the broad range of roles that a veterinary surgeon could take and made this career path more appealing. To further explore his interest in the field, he proactively joined various vet clinics as a volunteer and was fascinated by the fast-paced, challenging work style involving synergistic team collaboration and impeccable client communication.

Setting on the path to becoming a veterinarian

Setting on the path to becoming a veterinarian All these experiences added to his growing desire to become a veterinarian. He successfully enrolled in the Doctor of Veterinary Medicine (DVM) programme at UoMelb after completing six semesters at HKU and has just started his first year of study in UoMelb since February 2022. With the help of his academic advisor Dr Chi Bun CHAN of HKU School of Biological Sciences and the Faculty, the transition from HKU to UoMelb was achievable. He also thanked the experience working with animal models during his undergraduate period at the animal lab, 'It was when the concept of biosecurity and animal husbandry were first introduced to me. Both are continually being expanded on and refined in my first year of vet school and will undoubtedly remain as a central part of my veterinary career.'
Seamlessly Articulating a Pathway to His Dream
Moving to a new city could be daunting. But with the help of the amiable people in Melbourne, this transition has been almost seamless for him. He admired the Melburnians' collaborative spirit, 'In vet school especially, everyone would share materials, solve each other's problems and push each other into achieving our goals. There is also a profound awareness of mental well-being in Melbourne. Maintaining a good work-life balance is highly emphasised here.' One piece of advice he would offer to anyone considering a path to veterinary is that it is a challenging and workload-heavy field that requires extra effort, decisiveness and ability to withstand pressure, 'Finding a sustainable work-life balance and having hobbies that can give you a break from studying is essential!'
Jason WONG
.Fourth-year student at HKU School of Biological Sciences, majoring in Molecular Biology and Biotechnology
.First-year student in Doctor of Veterinary Medicine (DVM) programme at the University of Melbourne, Australia
Click here to learn more about this programme.