Start main content
UNIVERSITY AWARD
Outstanding Young Researcher Award 2013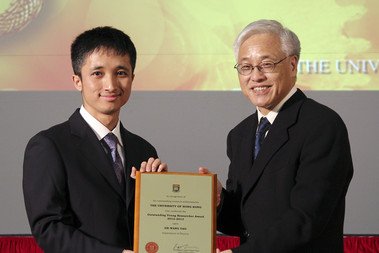 Dr Wang YAO
Department of Physics
Dr Yao received the University Outstanding Young Researcher Award 2013 for his outstanding research accomplishments.
Dr Yao graduated from Peking University in 2001, and received his PhD degree in Physics from the University of California, San Diego in 2006. He joined the University of Hong Kong in September 2008, where he is currently an Assistant Professor in the Department of Physics. Dr Yao is one of the first two recipients of the Croucher Innovation Award in 2013. The current focus of his team is to investigate electrons' internal degrees of freedom such as spin and valley pseudospin, and explore their quantum mechanical behaviour for new concept electronics and information processing.
The most representative work of Dr Yao in HKU is the prediction of the physics associated with valley pseudospin of electrons, previously thought to be unusable as control is lacking over this degree of freedom. His work makes possible in newly emerged two-dimensional materials the electrical and optical control of valley pseudospin, making it a suitable carrier of information for electronics. His theory predictions have been observed by many experimental groups, and are having a high impact internationally.
Dr Yao is a theoretician who works very closely with experimentalists. He enjoys both predicting new phenomena and identifying new physics from unexpected experimental observations.