Start main content
UNIVERSITY AWARD
Outstanding Young Researcher Award 2012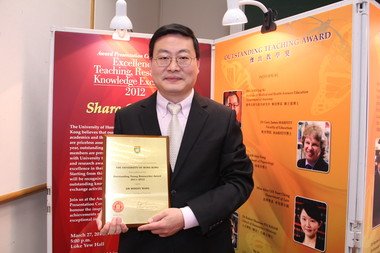 Dr Mingfu WANG
School of Biological Sciences
Dr Wang received his BS degree in Chemistry from Ocean University of China, MS degree in Organic Chemistry from the Chinese Academy of Sciences, and PhD degree in Food Science from Rutgers University. After completing his PhD, Dr Wang worked in the food and pharmaceutical industry for two years, and joined the faculty of Rutgers University in 2001, before moving to the University of Hong Kong in 2005. He is now an Associate Professor in the School of Biological Sciences teaching and researching in the areas of food, nutritional science, and traditional Chinese medicine (TCM).
Food toxicology and health foods are the current focuses of Dr Wang's research. In the past, his laboratory has successfully demonstrated the formation and inhibitory mechanism of several foodborne toxicants. Dr Wang has authored or co-authored over 100 Science Citation Index journal papers, and two books, including a Handbook of Analytical Methods for Dietary Supplements published by the American Pharmacists Association. He is also a co-inventor of five patents/patent applications. He serves as an associate editor/ editorial board member for several international journals in food science and toxicology.
He is among the top 1% of Agricultural Scientists as ranked by the ISI Essential Science Indicators.
Dr Wang appreciates being granted this Award, and he sincerely hopes that his research on food and TCM will lead to the development of high-quality products, and contribute to efforts in general health management.